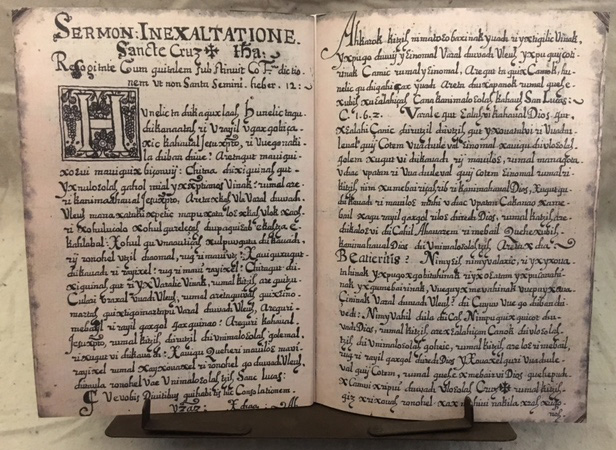 Libro de Sermones
Author: N/A
Language: K'iche' Maya
Date: 1690
History: "Libro de Sermones Varios en Langua Quiche" is a 17th century book apparently containing sermons, two short poems, and a dedication to Pope Urban IV. It also contains "cures" for snake bites, etc. The book is representative of an era during which colonialism, and the associated conversion to Christianity, oppressed the indigenous population in often violent ways. The flowery, meticulous text was scripted by many different people, at different times, over the course of years. It is believed to have been made by Mayans, who had already been converted to Christianity, due to several misspellings of Spanish words. The text is very similar to the K'iche' language, which is thousands of years old, preceding the Spanish language by hundreds of years. It's one of thirty-three different Mayan languages. The K'iche' coped with Spanish and Christian invasion, not by assimilating, but by adapting. They did this to protect their own spaces of political and cultural sovereignty. The K'iche' language is still spoken by over a million people, mostly in Guatemala.
Reproduction Details: The hardcover books are made with two pieces of real wood on the inside. The leather is a 4 oz cowhide, from a small supplier in New York state. The Glue we use to attach the leather to the wood is made at our facility, and is a period correct wheat glue. Along the spine, we use a modern perfect binding, with modern glue, to make the binding last longer. We also add three layers of mull cloth to the outside of the perfect binding, drying in between each layer, which is a traditional way to make the binding stiff, strong, and resilient.
Note: All of our facsimiles are made to order. Please allow 4-6 weeks for notification of shipment.