Bible: New Testament (without Gospels)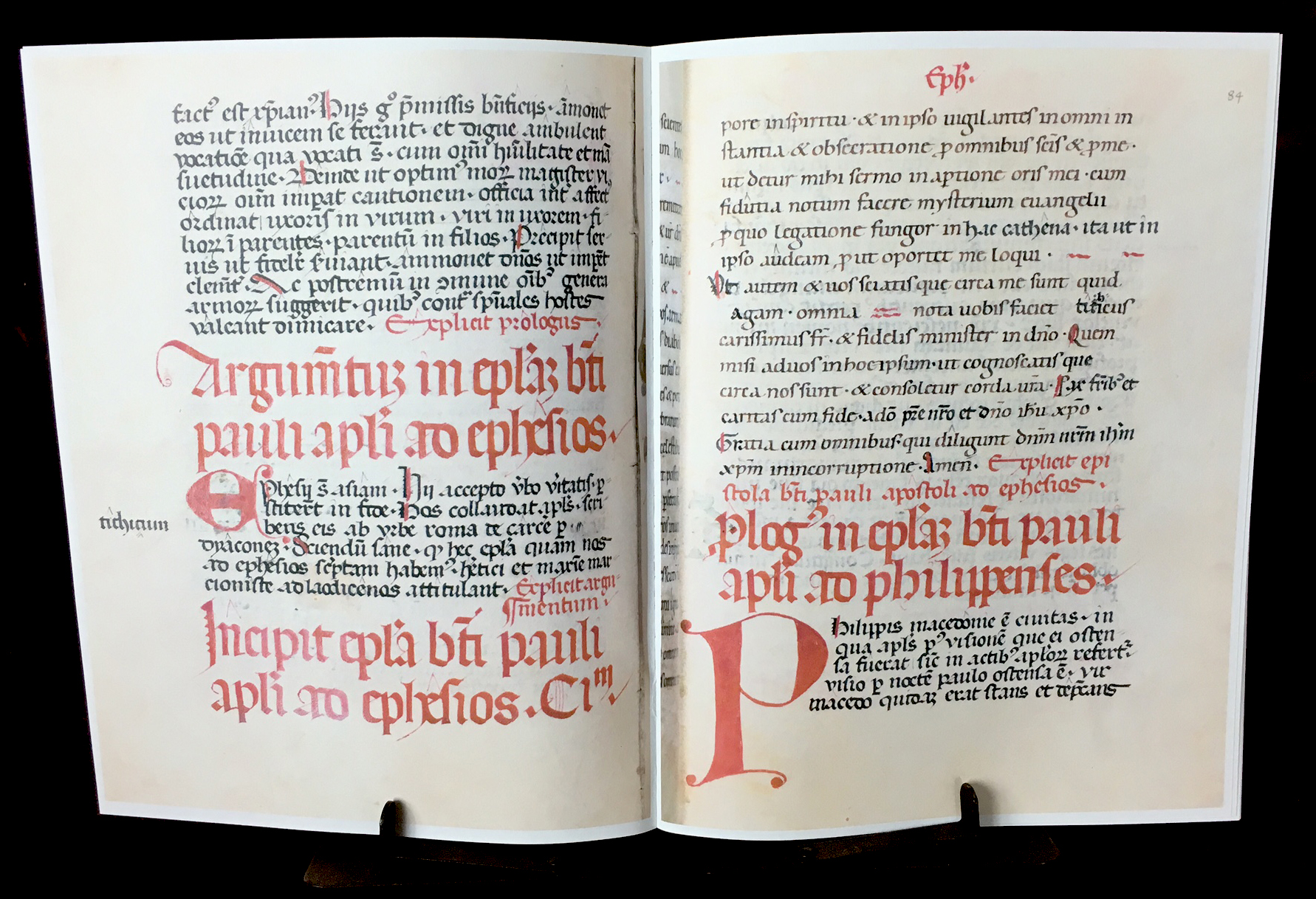 Bible: New Testament (without Gospels)
Author:
Language: Latin
Date: 1050-1100 AD
Page #:
Reproduction Dimensions: 11.75 x 7.75 IN
Price: $349.99
History: This illuminated manuscript, most probably written in the third quarter of the 11th century in the scriptorium of the Benedictine monastery of Tegernsee, comprises the New Testament, but lacks the four Gospels. It includes the prologues and arguments concerning the Pauline epistles, the Pauline epistles themselves, the Acts of the Apostles, the canonical epistles, and the Apocalypse. The text is preceded by a miniature (originally bound between folios 7 and 8) depicting the Apostle Paul sitting on a throne in an aedicula (chapel). The two figures standing next to him, each holding a scroll, can be identified as his disciples Timothy and Titus. The groups of figures in the frame sections probably represent the churches, to which the Pauline epistles were addressed, because later captions in the margins identify some of these people as Corinthians, Philippians, and Thessalonians. Coloring, conception, and design make this manuscript a typical example of the book production of Tegernsee in the 11th century. The fact that the codex was intensively used in later times is witnessed by supplements dating from the 13th century, as well as the replacements for most of the original prologues. The miniature of Paul was partially over-painted in the 15th century.
Reproduction Details: The hardcover books are made with two pieces of real wood on the inside. The leather is a 4 oz cowhide, from a small supplier in New York state. The Glue we use to attach the leather to the wood is made at our facility, and is a period correct wheat glue. Along the spine, we use a modern perfect binding, with modern glue, to make the binding last longer. We also add three layers of mull cloth to the outside of the perfect binding, drying in between each layer, a traditional way to make the binding stiff, strong, and resilient. The end result is a binding that will last generations to come.
Note: All of our facsimiles are made to order. Please allow 4-6 weeks for notification of shipment.