Bible in Old Swedish with Commentaries, 1526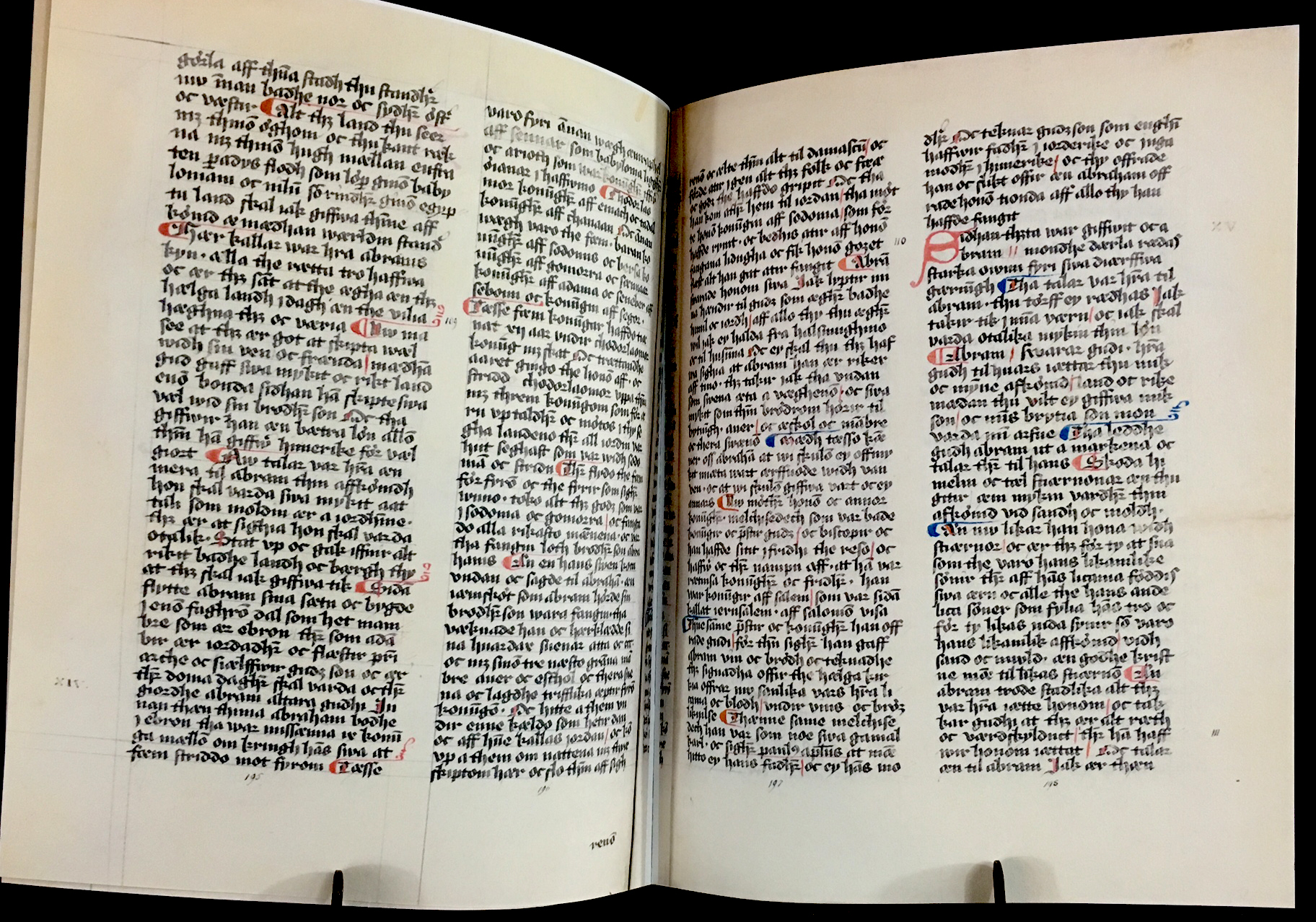 Bible in Old Swedish with Commentaries, 1526
Language: Swedish
Date: 1526
Page #: 523
Reproduction Dimensions: 11.75 x 8.75 IN
Price: $299.99
Dimensions: 11.25 Tall x 8.75 Wide (inches)
History: "Bible in Old Swedish with Commentaries", is the first known Swedish translation of the Bible, dating back to the early 13th Century. The paraphrast is unknown, but the three connecting historical and philosophical tracts are by Saint Augustine and Saint Thomas Aquinas. This manuscript contains an abridged version, in Old Swedish, of the Pentateuch, with three connecting short tracts accompanied by the books of Joshua, Judges, Judith, Esther, Ruth, Maccabees, and Revelation.
Description: The original manuscript is decorated by two hand-colored woodcuts, one of which is attributed to the German artist Hans Sebald Beham (1500‒1550), or his school. It's the only known copy of this print. The manuscript was in the possession of the Birgittine Monastery in Vadstena and was acquired by the Royal Library (National Library of Sweden) in 1780. Our facsimile of the Old Swedish Bible stays true to the original, but is bound in genuine leather, rather than hand-colored woodcuts, for longevity and accessibility. As with all our reproductions, the Bible is printed on high-quality paper and bound by hand. This manuscript would be a welcomed addition to any collector's library, to study and admire for years to come.
Reproduction Details: The hardcover books are made with wood and either cowhide, or soft lamb skin. The binding is a combination of modern and old world techniques. We perfect bind the book block first, then the book is hand sewn (over-sewn style) into 20 page signatures, and then multiple layers of mull cloth are applied, drying in between each layer. The end result is a binding that will last generations to come.
Note: All of our facsimiles are made to order. Please allow 4-6 weeks for notification of shipment.