Book of hours, Use of Troyes and Sens, 1470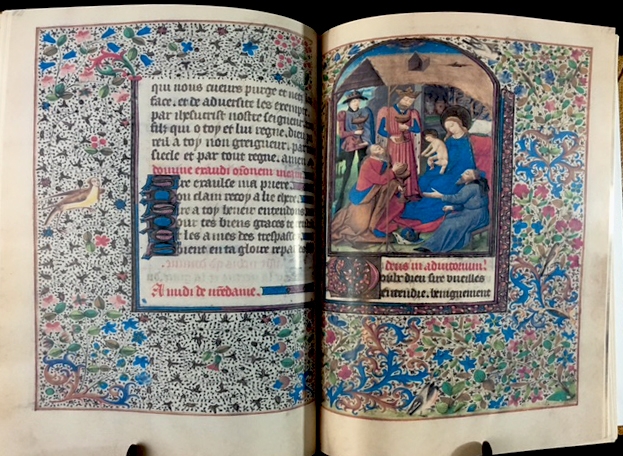 Book of hours, Use of Troyes and Sens, 1470
Author:
Language: Latin & French
Date: 1470
Page #:
Reproduction Dimensions: 11.75 x 8.75 IN
Price: $199
Description: This Book of hours is one of our most beautiful we offer. Every single page is intricately decorated with hundreds of miniature works of art and page designs. The manuscript starts out with the January- December calendar.
Contents:
Calendar (Seq. 5-28)

Sequences of the Gospels:(seq. 29-44)

Sequence from John (seq. 29-32)

John Writings at Patmos (seq. 29)

Matthew (seq. 30)

Mark (seq.31)

Luke (seq. 32)

Hours of the Cross (seq. 45-73)

Passion (seq. 74-76)

Hours of the holy Spirit (seq. 77-96)

Hours of the Virgin (seq. 97-256)

Penitential of Psalms (seq. 257-280)

Litany (seq. 281-295)

Prayers - Obsecre te (seq. 296-304)

Prayers - O Inetmerata and other prayers (seq. 305-314)

Suffrages (seq. 315-329)

Prayers (seq. 330-368)

Prayers for St. Catherine- Martydom of St. Catherine (seq. 359)

Prayers - Seven Verses of St. Benard (seq. 369-404)

Office of the Dead (seq. 405-478)

Back Matter (seq. 479-480)
Reproduction Details: The hardcover books are made with two pieces of real wood on the inside. The leather is a 4 oz cowhide, from a small supplier in New York state. The Glue we use to attach the leather to the wood is made at our facility, and is a period correct wheat glue. Along the spine, we use a modern perfect binding, with modern glue, to make the binding last longer. We also add three layers of mull cloth to the outside of the perfect binding, drying in between each layer, a traditional way to make the binding stiff, strong, and resilient.
Note: All of our facsimiles are made to order. Please allow 4-6 weeks for notification of shipment.